Description
Technical description
The productivity (production capacity) is up to 2 600 bottles per hour Such productivity depends on design and thickness of the performs and on the design of bottles and quality of PET as well.

Bottle shape is barrel with neck range (diameter) 33mm

Self-adhesive wrap-round label is paper made

Lap-Over System Automatic Shrink Wrapping Machine with range 2 X 4 (1.0L) without padding

Semi- Automatic Pallet Wrapping machine
1. Automatic PET Bottle Blow Molding Machine with system crystallization for hot filling to manufacture 2600 bottles per hour
This automatic blow molding machine is new style stretch blowing equipment, is designed and manufactured to the world top level introducing the latest and advanced technology with size range of produced bottles from 0.3L to 2.5L . The machine hascentral control unit with display panel ("touch screen" type) which allows making settings for all regimes and operations for the machine and different parts of machine as well. It also allows to monitor working routine of the machine and to set up new programs to operate the machine. Types of the preforms are: PCO, semi-PCO, BPF.
NOTE:
In order to produce high quality bottle for hot filling with temperature 75°C the perform should be made heavier (higher grammage). At least 10 gramm heavier than standard perform. With rise of temperature of hot filling for every 5°C the weight of perform should increase for 5 gramm.
The Blowing machine is equipped with equipment of leading companies of the world
Pneumatica is FESTO (Austria)

Central control unit with computer is Bernecker (Germany)

Converter unit is MOELLER, BALLUFF, SCHNAIDER (Germany)

Lamps are Philips (Holland)

Chillers CLIMAVENTA (Italy)

Compressor block AIRPOL (Poland)
Technical details
Nominal Power Consumption: 150 kW

Compressed Air Consumption (Low Pressure) : 50 Nm3/h
Compressed Air Consumption ( High Pressure): 440 Nm3/h
There is a system of regeneration compressed Low pressure air for double using either in the blowing machine again or in the filling line
Main equipment
Automatic PET Bottle Blow Molding Machine

Fully Automatic Preform Feeder (consists of Preform tank, Elevator and Feeder Conveyor)

Four cavities Mould

Compressor house with air filtration system

Water Chiller of closed cycle
The Total Price in Euro € 348 000
 (At our storehouse in Minsk)
2. Rinsing-Filling-Capping machine (production capacity 3 000 bottles per hour)
Technical details:
Model: МФ-3 -9-9-3

Type of filling: by level

Temperature of filling: 85°C

Temperature of rinsing: 90°C

Type of bottle: PET bottle for hot filling 1.0L

Number of rinsing heads: 9 nozzles

Number of filling heads: 9 nozzles

Number of capping heads (closures): 3 elements

Type of capping heads (closures): magnetic

Type of cap-supplier: PICK & PLACE

Total power: 6 kwt

Air pressure: 6 Bar

Weight: 3 500 kg

Dimension: 2 700 х3 100х 2 500 mm
Rinsing-Filling-Capping machine is made of stainless steel (AISI 304). And all hardware, pipes and fittings which are in contact with the product and water are made from stainless steal AISI 316.
Rinsing-Filling-Capping machine can be equipped with CIP Washer (all systems can be connected). Capping block can use screw cover cap with diameter 28mm and has three capping heads of magnetic type and has PICK & PLACE cap-supplying system. The block also provides cover caps sterilization in ultraviolet tunnel before placing them on the bottles. Rinsing-Filling-Capping machine is also provided with:
in-coming module of air conveyer length 2m

out-coming module of slat-type conveyer

central control unit with touch screen display panel (PLC)
The Total Price in Euro € 174 000 (At our storehouse in Minsk)
Additional equipment
Cap feeding group with lining up system – Price in Euro 

€ 12 000

Pack of test bottles for testing Rinsing-Filling-Capping machine with CIP Washer in action (closed cycle) – Price in Euro 

€ 1 800

Cover caps sterilization system – Price in Euro 

€ 23 800
3. Cooling Tunnel (made from stainless steel)
Cooling Tunnel serves to cool the bottles out-coming from the filling – Price in Euro 

€ 59 000

Set of conveyers for cooling tunnel – Price in Euro 

€ 11 000

Water cooling system in closed cycle – Price in Euro 

€ 9 700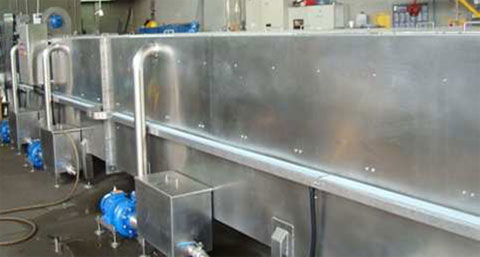 4. The bottle Dryer system with use of air-knifes
All the Dryer system is made of stainless steel and has tray underneath with drain hole – Price in Euro 

€ 12 700
5. Set of single-row and multi-row slat-type conveyers.
All parts of the conveyers either made or provided by such well-known companies like

UNI KETTENTECHNIK (Danmark), MOTOVARIO and СITY (Italy)

MITSUBISHI (Japan)

The material of structure is stainless steel AISI 304 (Германия) – Price in Euro 

€ 13 000


NOTE: The price can be corrected after specifying the requirements of customer
6. Inkjet Date-Coding Machine Model "Videojet 43s" – Price in Euro 

€ 6 400
7. Automatic Shrink Wrapping Machine (Packer with Tunnel model MO-3).
This machine is thermo-type tunnel machine and designed for wrapping glass-, metal-, PET-bottles or cardboard containers with heat shrinkable tape to make distribution packaging. The bottles or containers coming by multi-row conveyer into distributive unit of the machine and get placed on special pan to be automatically formed into distribution packaging.
Flow of products and loading of products get automatically

Distribution packaging getting done in automatic way

The machine can be adjusted for bottles of different types and sizes

A operator can control and set up different modes of working cycle of the machine

There are ribbed tubular electric heaters with air cooling system are used in this machine

There is a system to keep set temperature in sealing bar with gradual temperature regulation

There is automatic cooler for sealing seam

The machine is equipped with pneumatic equipment of "KAMOZZI"

All parts of the machine which contact with water are made from stainless steel
Technical details
Production capacity: 700 packs per hour

Staff: 1 operator

Packs clear film:
– 2 х 4 (1,5 Ltr &1 Ltr.)
– 3 x 4 (0.5Ltr)
– 3 x 5 (05Ltr)

Max. dimensions of pack: 220х360х350 mm

Power consumption: 25.5 kW

Overall dimensions of the machine: 4900Х3200Х1800 mm

Weight 560 Kg

Voltage: 220/380 10% V, phase 50 Hz Variable frequency

Control pressure: 0.5-0.6 mPa

Air consumption 0.58 m3/min
Size of Roll of film
– Width max 500 mm
– Diameter up to 450mm
Price in Euro 

€ 22 400
The Total Price of Line in Euro € 693 800 (At our storehouse in Minsk)